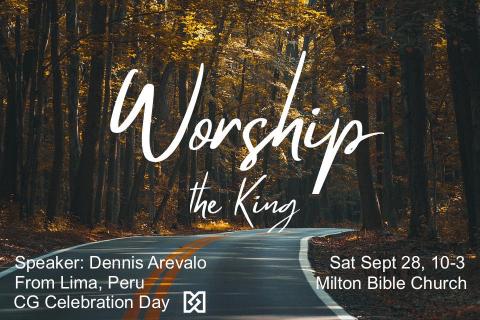 Our next Churches Together day will be on Saturday September 28th from 10 am to 3:00 pm at Milton Bible Church. We anticipate a solid time together in prophetic worship and an encouraging word from our co-worker Dennis Arevalo.
Another great CG Celebration Day with churches being together. We are continuing to focus on the Kingdom of God and in particular 'Worship the King'.
Our guest speaker Dennis Arevalo, is a father of four children, and resides in Miraflores, Lima, Peru where he leads an exciting church. Dennis and his wife Charmian are part of the CG ministry team working toward a developing family of churches in Lima and the surrounding area.
You'll hear his heart about worship and learn about the exciting things happening in Lima.
Bring a lunch and meet new friends. Participate in worshiping Jesus and be encouraged by the Word of God. Be a part of what God is doing in this new season in Ontario.